Some shop projects that we have completed
---
Pipe legs for the bottom of 2 baggers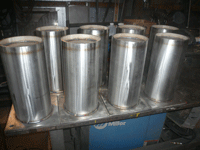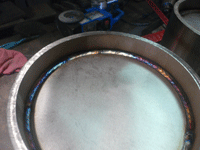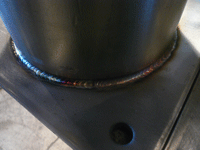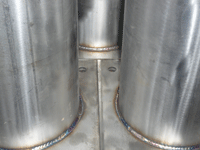 Here are some pictures of 316 grade, stainless steel pipe legs to lift up 2 baggers to proper height. These baggers were raised to allow better discharge conveyors and other equipment underneath for smoother operation and less downtime.
---
Custom vibration caps for the top of Ishida scales

When you need custom at an affordable price, then you should always make Country Metals your first call. We can create almost anything from all types of metals. These 5 caps were specially designed for vibrating apples into scales with the least surface area to keep the apples from sticking. Here we used rigidized textured metal which worked out great.

---
Welded stainless steel waterjet parts

Here we have some water jet, 316 grade, stainless steel parts that we weld together. We have 4 hold down jigs to keep all of these parts square during and after welding and to keep up with the monthly quotas that our customers rely on us to keep. By fabricating jigs for each job, our customers know that we keep quality and consistancy on every order.

---